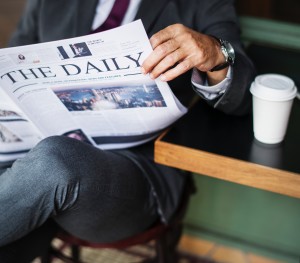 A press kit, which is more widely referred to today as an electronic press kit (EPK), is a beneficial tool for any business. The purpose of your press kit is to service materials to members of the press who are interested in authoring content about your company or you. The all-in-one bundle provides easy access to all of the most pertinent information about your business. Media kits are traditionally created by publicists for hire or internal members of company PR, marketing or communications teams. However, nowadays, it is not uncommon for a business owner to hire a media expert to take on the task as a one-time project, if needed.
The beauty of a press kit is that it is an evergreen item, which means that it retains relevancy for years to come. You can update items or swap them out at your leisure, depending on any growth or new venture your business experiences. And, thanks to the internet, EPKs are gaining popularity over physical media kits (they are greener, too), and can be compiled and accessed easily through Cloud-style apps like Google Drive and Dropbox.
What are the main items that make up a press kit?
Depending on who you ask, the materials within a press kit vary. Based on your business, you may need more or less materials than what is typically included. For example, a restaurant chain will likely have more components, compared to a boutique hair salon. Ultimately, the choice on what – and what not to include – in your media kit is up to you. Some examples of vital items that belong in your press kit include:
A mission statement: Your mission statement is a brief synopsis of your company, since there will be plenty of information about your company in the materials named below. Think in terms of "Who We Are" and "What We Do."
Biographies: Great journalists do their research, and biographies provide that initial background information. Whether just to learn about a business owner or a major player in the operation (like a head chef or a lead mixologist), a strong biography can go a long way. For example, a biography can provide inspiration for questions surrounding an interview for a profile a writer wants to author.
Fact sheets: These items provide the hard facts surrounding a business, and there might be different styles, depending on your venture. For instance, a hotel company might include several fact sheets; one on each property highlighted. Fact sheets can range in detail, providing everything from historical dates to brand offerings, and statistics to architectural figures.
Press releases: If your business is just launching, you might only have one, main "announcement release." This should include basic information about your company, along with a strong boiler plate, which defines the concept of your business, its location and any contact information, in just a few sentences. As you continue to grow, you will collect more and more press releases and media alerts (quick briefings). However, you need not include every single release authored in your media EPK.
High-resolution images: Although print publications are not as popular as online publications these days, sourcing high-res images in your media kit allows a writer or an editor to pull images without asking for them. The photos you choose should be strong and professional, in order to represent your company accurately. Logos are also important to include. Be prepared to have these images published, as long as they are included in your press kit. You should always offer high-res images, as opposed to low-res, because photos can always be resized smaller for online, but not larger for print purposes. Tip: Always include the photographer's name or company as a photo credit on each file.
Quotes: Although this is not crucial to your electronic press kit, a one-sheet filled with quotes can come in handy for a writer who cannot commit to an interview. (Perhaps he or she is working on a roundup that does not require the need to directly interview someone.) Consider quotes from different team members, like CEOs, CFOs or marketing managers. A variety of quotes will cater to different publications.
FAQs: If you feel that your business model is unclear, or if you are launching something brand-new, an FAQ document can help to translate your vision. Your mission is to provide comprehensive information about your brand, so if you have not achieved this task through the above-mentioned materials, you can clear the air with one page of frequently asked questions.
Press clips: Although you may not have any press clips yet, when stories are published about your business, you can clip them appropriately and include them in your EPK, if you wish. This will give other members of the media an idea of what has already been authored on your company, and which publications have shown interest.
How do I create a press kit?
If you are interested in creating a media kit of your own, the first step in doing so is outlining which items you want to include. Plan to do plenty of work to create the EPK, and do not cut corners. Your press kit is the media's inside look at your company, so you want to present everything professionally and in the best light possible. Some tips to consider include the following:
Work with strong writers and editors to create written materials
Contract a professional photographer to shoot relevant company photos
Work with others unfamiliar with your business to formulate FAQs
Make sure any prior press clips are scanned and presented cleanly
Consult with a set of eyes on the final EPK package to ensure nothing is missing
What do I do if I can't create my own media kit?
Taking matters into your own hands isn't always the best option, especially if you are trying to create your press kit with little-to-no prior experience. Budget for the help of a PR team and/or a writer with PR experience. Most importantly, be sure to enlist the services of a skilled proofreader or editor, so you can ensure your promotional materials are squeaky-clean of any errors that could otherwise affect your brand's credibility.
Need help creating your company's press kit materials? Contact our team of PR writers and consultants today, so you can get on the fast track to securing headlines tomorrow.
Photo by rawpixel on Unsplash